---

Rendezvous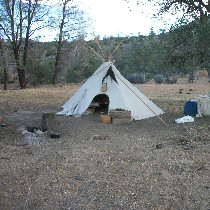 Don't Miss Our Next Rendezvous
Saturday, April 8, 2023 to Sunday, April 16, 2023
Step back in time and enjoy an authentic 1700's to 1840's Rocky Mountain Fur Trader's encampment. Become part of our historic past by attending the finest mountain man encampment in the Western U.S. Demonstrations of primitive survival skills such as cooking, tool making, tomahawk throwing and black powder target shooting make this event an unforgettable experience for young and old alike.
Read more
Club Membership
Membership Application
The Paiute Mountain Rendezvous is a Kern County based traditional muzzle loading shooting club.
Our club is based on exploring traditional muzzle loading by participating in pre-1840 living history. Being a living history organization we are involved in teaching, learning, experiencing, living and enjoying the activities associated with the Fur Trade of the early 1800's.
Read more
Contest